Delivering Local Freshness Every Day
Pinecrest foods distributes local refrigerated and frozen products including:
Dairy products from Maola Dairy, owned by local farmers, and MilkCo Dairy in Asheville, NC
Food and packaged meat products from Carolina Pride and Star Foods—both Carolina companies
Tarheel BBQ and Hotdog Chili from Asheville Packing in Flat Rock, NC
Ice cream from local companies including Creamy Snax in Flat Rock, NC and Southern Ice Cream in Charlotte, NC
"New" Clemson University Blue Cheese, and Clemson's Best Premium Ice Cream
Who we are
Pinecrest Foods is a locally owned and operated sales and DSD (Direct Store Delivery) refrigerated distribution company. Our products are supplied by local companies:
Milk from dairies and farms in the South
Ice cream and frozen treats brands everyone knows
Clemson Blue Cheese
Tar Heel brand BBQ and Chili (retail and food service packages).
We service all formats of customers:
Large format (grocery and supermarkets)
Small (dollar, drug, convenience)
Food service (restaurants, vending, distributors)
Health care (hospitals, retirement homes)
Schools (public, private, and daycare facilities)
We have a modern fleet of refrigerated trucks and our current coverage areas include:
South Carolina, Western & Piedmont North Carolina, Augusta, GA
We have a veteran team of experienced route salespeople, supervisors, and managers who are ready and willing to provide our customers with … the Best Customer Service possible!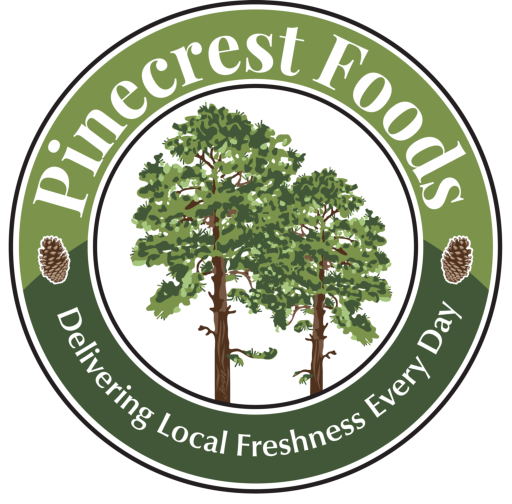 Pinecrest Foods Service Commitment
We will listen to our customers and treat them with respect.
We will provide full service: the extra level of service needed to maintain freshness, reduce out of dates, and grow sales.
We will provide local products from companies with a track record for providing quality.
Our customers will have an account person to call for support when needed.
We will base deliveries on customer needs, volume and coverage in territory.
Our employees and their families live, work, and purchase goods locally.
We will always value our customers, and we will work hard to continue to earning their business every day.