Delivering Local Freshness Every Day
Pinecrest foods distributes local refrigerated and frozen products including:
Dairy products from Maola Dairy, owned by local farmers, and MilkCo Dairy in Asheville, NC
Food and packaged meat products from Carolina Pride and Star Foods—both Carolina companies
Tarheel BBQ and Hotdog Chili from Asheville Packing in Flat Rock, NC
Ice cream from local companies including Creamy Snax in Flat Rock, NC and Southern Ice Cream in Charlotte, NC
"New" Clemson University Blue Cheese, and Clemson's Best Premium Ice Cream
Who is Pinecrest Foods?
Pinecrest Foods was started by Riley Cordell, a Dairy Industry Veteran with over 38 years experience in Sales and Distribution.
Riley left Dean Foods in 2017 to pursue a lifelong dream to have his own business like his Grandfather, Dad and youngest brother had before him.
Riley's idea was to partner with local suppliers and offer full-service programs to customers who were looking for quality, local products.
Riley also wanted the company to provide jobs for the some of the people that were displaced when the top dairy company continued to change and go in different directions. He sold the idea to his family and friends, and with their support, he started Pinecrest Foods.
The Pinecrest name has been in the Cordell Family for over 70 years. Libby Cordell, Grandmother to Riley, named the Cordell home place Pinecrest in the 1940s. The family home has seen five generations and hopes to see many more as the family continues to grow. The Pinecrest Foods logo honors Riley's  Mother Joan who passed away in 2011. Joan's name is featured in the tallest pine tree in our logo.
Pinecrest Foods would like to recognize our Grandmothers, Mothers, and Wives for all of their love and support. Without them none of this would be possible. We thank our Grandfathers and Fathers for their love and support as well.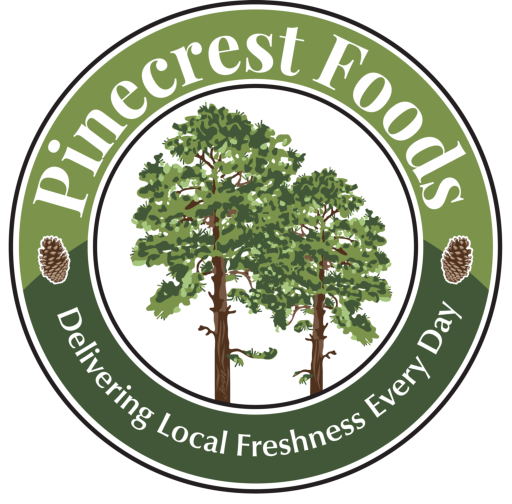 "Pinecrest Foods stands behind the local products we sell, and we are committed to providing personal, "family-style" customer service. Our customers are why we exist, and we are thankful to have the opportunity to service them every day. Give us call we would greatly appreciate the opportunity to meet with you and share our great portfolio of local products."
—Riley Cordell